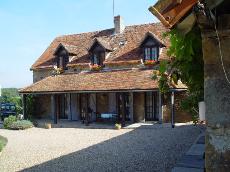 HOLIDAY HOME FARMHOUSE APARTMENTS IN BURGUNDY
6 SELF-CATERING GITES FOR COUPLES
Delightful Apartments for Couples

Chris and Judith Mosedale, the resident owners since 1990, offer their guests a holiday to relax and get away from the everyday pressures of life, to enjoy the pleasures of the rural countryside where the traditional ways and values are still to be found. Enjoy the peace and quiet - our apartments are specially designed for couples of all interests and lifestyles and are not suitable for children.
What We Do for Our Guests

On arrrival at EN LA MARRE all guest are invited to a welcome drink or two at 6 pm to meet other guests and be updated on local events, markets, general information etc.
Restaurant bookings gladly made, winetasting recommendations or visits arranged. We hold a communal BBQ on Thursday evenings for those interested and weather permitting - each couple contributes a food dish and some wine, including your dear hosts; anyone with a talent such as singing, playing an instrument, story or poetry-telling etc is given an ideal opportunity on this occasion to entertain us all.


En La Marre Holiday Accommodation with Pool


Burgundy is not a tourist-orientated region and so has not been spoilt by the commercial tourist industry. Here we enjoy uncluttered roads, time and space, unpolluted air, fields of cattle and corn, streams and forests, wild flowers, bird life and animals in their unspoilt natural habitat.




Of course we humans are also part of the great French way of life. The wine and food of the region are the best in the world; ask any Burgundian, and he is right. A gastronomic paradise awaits you; wonderful wines to discover, visiting and tasting with the wine grower himself, enjoying the different wines from the villages such as POMMARD, GEVREY-CHAMBERTIN, NUITS ST. GEORGES, MEURSAULT, PULIGNY MONTRACHET, and many more, from CHABLIS to the BEAUJOLAIS. Superb wines all at very modest prices.


Ah! - the food! - wonderful produce from the local markets to practice your culinary skills on - free range poultry from the BRESSE, local meats from our farmers, fish and seafood, oysters etc. rushed in from the coasts of France, and of course from all over the world. The French do not stint where food is concerned.

Then there are the restaurants, from small country auberges, to 3 Michelin* grand eating establishments, all offering an experience to revive those tired tastebuds.

For more information on the Burgundy region, please click here.

Additional Facilities Available On Site

Bicycles to rent at a modest price
Washing machine for guests' use at no cost (for reasonable use!)